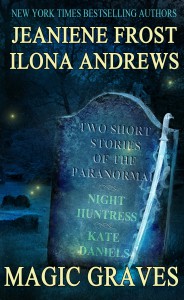 Magic Graves
Urban Fantasy anthology, ebook only
New York Times bestselling authors Jeaniene Frost and Ilona Andrews bring you two short stories of paranormal.
Jeaniene Frost's story, One for the Money, features vampires Cat and Bones trying to protect a spoiled heiress with a price on her head and an undead hitman on her trail. Previously published in Death's Excellent Vacation. Also includes the first three chapters from Jeaniene's story in The Bite Before Christmas anthology, as well as a sneak peek at ONCE BURNED, the first novel in the new Night Prince series.
Ilona Andrews' story, A Questionable Client, is a prequel to her award-winning Kate Daniels series. In a world beset by magic waves, Kate Daniels works as a mercenary. She is tired, hungry, and there is foul-smelling blood on her boots. All she wants to do is to go home, but when Mercenary Guild offers her a job she can't refuse, she finds herself protecting a man against Russian wizards. Previously published in Dark and Stormy Knights. Also includes first two chapters of FATE'S EDGE, book 3 in the Edge series, and first two chapters of Magic Grieves, a Kate Daniels novella.
Vedd meg:
Amazon
,
B&N
. iTunes link hamarosan.
Paranormal Romance novella, ebook only,
Isabella Spaga is about to reluctantly walk down the aisle with Mr. Dangerously Wrong…but not if dashing vampire Chance has anything to say about it. As a favor to Bones, Chance has come to derail this wedding of beauty to the beast. Now if only he can keep his hands off the bride. From New York Times bestselling author Jeaniene Frost's Night Huntress world, it's the wedding of the season…that everyone wants to miss. (Originally appeared inWeddings From Hell anthology)
Devil To Pay
Paranormal romance anthology, ebook only,
Blake Turner had it all—until a demon decided to take residence in his soul. Plagued with constant black outs and a trail of dead bodies in his wake, Blake thinks vampire Elise is his best chance at ending the nightmare. It's just too bad he's fallen in love with the gorgeous vamp right before he has to die… Featuring characters from New York Times bestselling author Jeaniene Frost's Night Huntress world. (Originally appeared in Four Dukes and a Devil anthology)
Rendeld meg:
Amazon
,
Barnes & Noble
,
Paranormal Romance anthology.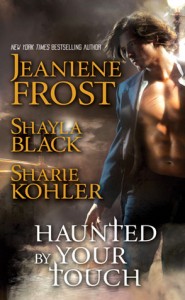 Enter the dark realm of Nocturna in Jeaniene Frost's red-hot tale, where blisteringly sexy Raphael dominates the demons of a lawless dimension and tries to help a beautiful young woman avenge her cousin's disappearance. Shayla Black's gorgeous Doomsday Brethren hero, Raiden, vows to fight for his magical lover and their unborn youngling—no matter the cost—after he drives her into the arms of another man and she falls under attack. Lycans rule the night in Sharie Kohler's suspenseful story, as a fiery woman stalks mysterious Luc, the undeniably hypnotic being she believes can save her from turning . . . if she kills him. Danger beckons in these captivating paranormal tales that will tempt readers to the edge and leave them begging for more.
"A fabulous collection of short urban fantasy/paranormal romance reads…This is a book paranormal romance/urban fantasy fans won't want to miss." Night Owl Reviews, Top Pick. Full review
here
.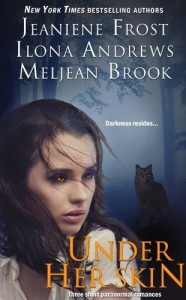 Olvasd el az első 20%ot
itt
.
Under Her Skin
Paranormal romance anthology, ebook only,
Three short stories of paranormal romance from bestselling authors Jeaniene Frost, Ilona Andrews, and Meljean Brook. "Pack" by Jeaniene Frost brings you a tale of a lost hiker and her encounter with some very frightening–and sexy–wolves. A female werewolf helps a sheriff track down a killer "In Sheep's Clothing" by Meljean Brook. A woman must repay her family's debt to a shapeshifting magician in Ilona Andrew's "Grace of Small Magics." These stories previously appeared in print in the Mammoth Book of Paranormal Romance.
Click to read a free sample
.
Vedd meg:
Smashwords
,
Amazon
,
Barnes and Noble
Death's Excellent Vacation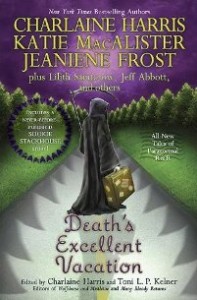 Fantasy anthology
New York Times bestselling authors Charlaine Harris, Katie MacAlister, Jeaniene Frost-plus Lilith Saintcrow, Jeff Abbott, and more-send postcards from the edge of the paranormal world to fans who devouredWolfsbane and Mistletoe and Many Bloody Returns. With an all-new Sookie Stackhouse story and twelve other original tales, editors Charlaine Harris and Toni L. P. Kelner bring together a stellar collection of tour guides who offer vacations that are frightening, funny, and touching for the fanged, the furry, the demonic, and the grotesque. Learn why it really can be an endless summer-for immortals. Jeaniene's short story, One For the Money, features Cat and Bones trying to protect a spoiled heiress with a price on her head and an undead hitman on her trail . The story is set after the events of Destined For an Early Grave in the Night Huntress series.